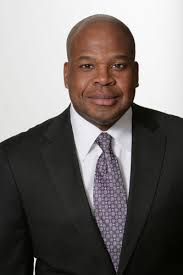 An only child, Robert "Bobby" Grace, was raised about 45 miles east of Los Angeles in San Bernardino, California where he attended Catholic grammar school. Bobby's father, who was very influential in his life, was a veteran of World War II, Korea, and Vietnam, serving as an Air Force hospital administrator. Bobby is an avid sports fan and was a star tailback for San Bernardino High School.
While majoring in Political Science at the University of California, Los Angeles, Bobby ran track and served as both Vice-President and President of the Undergraduate Associated Student Council ("USAC").
As USAC President, Bobby administered a budget of over $1 million dollars and appointed over seventy students to different governing boards and committees. During his time at UCLA, Bobby also served as Chapter President of his fraternity, Alpha Phi Alpha.
Following UCLA, Bobby obtained his law degree from Loyola Law School, in Los Angeles. In 1988, he joined the Los Angeles County District Attorney's Office where he has remained since. He is currently a prosecutor in the Major Crimes Division.
Throughout his life, Bobby has committed himself to serving the community and has maintained numerous leadership positions. Currently, Bobby is the Vice-President of Education and Training for Black Prosecutors of Los Angeles.
Previously, Bobby served two terms on the Los Angeles County Democratic Party Steering Committee for the 47th Assembly District and was Precinct Captain for Tom Bradley's gubernatorial campaign.
Bobby is also a frequent lecturer to law enforcement and community groups on both gang and domestic violence prosecutions. He has taught trial advocacy at both Loyola and Southwestern Law Schools. Most recently, Bobby lectured at-risk elementary school students about the dangers of drugs and gangs at Cleveland Elementary School. He is also a coach for Marshall High School's Constitutional Rights Foundation.
Bobby currently serves on the Board of Directors of the UCLA Black Alumni Association. In four years, he has helped to raise over $1 million dollars in academic scholarships for UCLA students.
Additionally, Bobby has served on the Board of Directors of Women & Youth Supporting Each Other ("WYSE"), a nonprofit organization that provides college mentors to underprivileged middle school girls across the nation.
Bobby's commitment to service through leadership has also included:
Secretary, Board of Directors of the Association of Deputy District Attorneys ("ADDA"), the union and sole bargaining unit for nearly one thousand Deputy District Attorneys working in Los Angeles County
Volunteer, "Backpacks for the Homeless," for the past two years, Bobby opened his home to organizers and volunteers, helping to assemble and distribute over 1,000 backpacks to the disadvantaged on Skid Row
President, Board of Directors of the UCLA Black Alumni Association (1995-2000)
Chair, Board of Directors UCLA Alumni Association (1999 to 2002)
Lifetime member, UCLA Alumni Association
Member, Los Angeles County Bar Association
Member, Langston Bar Association
As a Deputy District Attorney, Bobby has amassed a stellar record trying over 60 homicide cases. He has prosecuted wide range of criminals, from Chester Turner, the County's most notorious serial killer, to Calvin Broadus (aka "Snoop Dogg"). The following are just a few of the many successes Bobby has achieved in his career as a prosecutor:
People v. David Mahler (2008): Bobby successfully prosecuted New York lawyer, David Mahler, who shot his girlfriend, Krissy Baldwin, to death then dumped her body in the desert near Barstow, California. Bobby had to present secondary DNA evidence to connect Mahler to the crime because of the severely decomposed state in which Baldwin's body was discovered.
People v. Helen Golay & Olga Rutterschmidt (2008): Bobby helped prosecute the "Black Widow Killers" for the murders of two homeless men. The women took out life insurance policies worth millions of dollars on both men and then killed them to collect the premiums. Bobby has been featured on several true crime television programs detailing this case.
People v. Chester Turner (2007): Bobby prosecuted serial killer Chester Turner for the murder of eleven women in south Los Angeles during the 1980's and early 1990's. Turner holds the dubious record of being the most prolific serial killer in Los Angeles's history. Turner was ultimately sentenced to death for his crimes.
People v. Wayne Taylor (2007): Bobby convicted Wayne Taylor. Taylor murdered his father in Baldwin Hills, cut off his father's extremities, and attempted to burn the body parts. Bobby was able to present intricate DNA evidence that tied Taylor to his father's murder.
In 2002, The Association of Deputy District Attorneys ("ADDA") awarded Bobby their "Pursuit of Justice Award" for obtaining murder convictions in the case of People v. Henry Hayes, a Los Angeles minister who murdered his wife and daughter in cold blood.
In 1999, Bobby received the "Outstanding Community Service Award" for securing murder convictions in the case of People v. Randal Amado against three Los Angeles gang members for the slaying of a high-school student, Corie Williams, who was killed while riding a MTA bus home from school.
People v. Calvin Broadus (1996): As part of the Hardcore Gang Division, Bobby worked to prosecute Calvin Broadus (aka "Snoop Dogg"). Bobby tried Broadus and his bodyguard for murder and remained steadfast despite being the target of death threats. Bobby was featured in the Wall Street Journal for the "Trying Times" he endured prosecuting that case.